SF-BiDi Adaptor – LC type Dual to Single Fiber Adaptor
Why ?
Fiber trenching is very costly; capacity is finite and expensive.

1G and 10G bi-directional transceivers are common (needs different wavelength in two sides), BUT 100G, 200G, 400G solutions are not common.
Doubles fiber capacity while avoiding costly new fiber/transceiver deployments
A simple to deploy bookend solution, it is ideal for network service providers, cloud providers, data center operators, and enterprise network operators wishing to better utilize their existing fiber. BiDi QSFP Adaptor allows them to simply pair a small form-factor passive adaptor with any fiber QSFP transceiver. This reduces the need for costly fiber trenching and frees up fiber for other services.
Benefit :
Low-cost dual to single passive fiber adaptor that works at high bandwidth rates

Compatible with the majority of the Small-Form Factor Pluggable in the market

Allows immediate BiDi function for most fiber transceivers

Low insertion loss (<2db including connectors)

Crosstalk bigger than 40dB
​
Features :
50% fiber savings with quick ROI

Works at any bit rate: 100G, 200G, 400G & 800G bps

Unique patented technology complements QSFP28/QSFP56, QSFP-DD, OSFP, CFP/CFP2/CFP4 (single mode)

Compact and simple to deploy (no need for configuration or additional power source)

Low insertion loss (<2 db including connectors)

1300-nm (1271-1331) wavelength at any supported bandwidth rate

Operates over various optical distances: 10km, 20km, 40km & 80km

Double fiber capacity while avoiding costly new fiber/transceiver deployments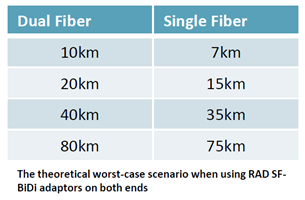 Double the existing fiber usage in existing fiber network !!