QSFP28 100G MSA Full Compliance

Interconnects

Superior Signal Integrity Characteristics and Performance to Alternatives Modules.



Complete QSFP28 Development Kit:
ML4041K 4x28G Passive Host Module-MCB
ML4020-MSMPM 4x28G Beak-out Module-HCB
ML4002-28 4x28G Passive loopback
ML4048 Retimed loopback



Products Description



The MultiLane QSFP28 Development Kit provides the necessary development tools and reference modules required for developing QSFP28 based products. This kit is essential for development, test, and characterization of QSFP28 based products. It can also be used for testing 100G CDRs, 100G Gearbox devices, 100G QSFP28 ports on routers and line-cards, electro-optical modules, and QSFP28 active optical cables.

Key Features :
Superior Signal Integrity design using high performance Rogers 3003/4350 based PCBs
Host uses 40GHz End Launch Bo-Jiang 2.92mm K Connectors
Full MSA Compliant functionality
Passive Loopback Module offers programmable power dissipation with spotted hot areas
Temperature Monitor
I2C interface compliant with SFF-8436
Hosts are controlled via USB-2 interface
Windows based user friendly GUI
Custom Memory Map
1. ML4041-K QSFP28 Host Test Modules/MCB
ML4041-K is designed to provide an efficient and easy method of programming and testing 100G QSFP28 transceivers, active optical cables. It comes with a complete User friendly GUI supporting all features defined by QSFP28 MSA and simplifying configuration process to enable intuitive memory map programming and testing. It is designed to simulate an ideal environment for QSFP28 transceivers module testing, characterization and manufacturing test.
Supports 4x28G interfaces
I2C master driven from both on board micro controller or external pin headers
40 GHz Bo-Jiang 2.92mm K Connectors
Current Sense
Matched differential trace length
All 4 channels comes with matching trace length
High performance signal integrity traces from K connectors to QSFP28 host connector.
On-board LEDs showing MSA output Alarms states.
On-board buttons/jumpers for MSA input control signals
User friendly GUI for I2C R/W commands and loading custom MSA Memory Maps.
Four corner testing capability.
USB interface
2. ML4020-MSMPM QSFP28 Breakout Modules/HCB
This Breakout module can be used for testing and characterizing 4x28G line cards and host interfaces.
- Support 4x28G interfaces
- Matched trace length
- Low Insertion Loss Rogers 3003 based material
- HUBER+SUHNER M-SMPM Connector rows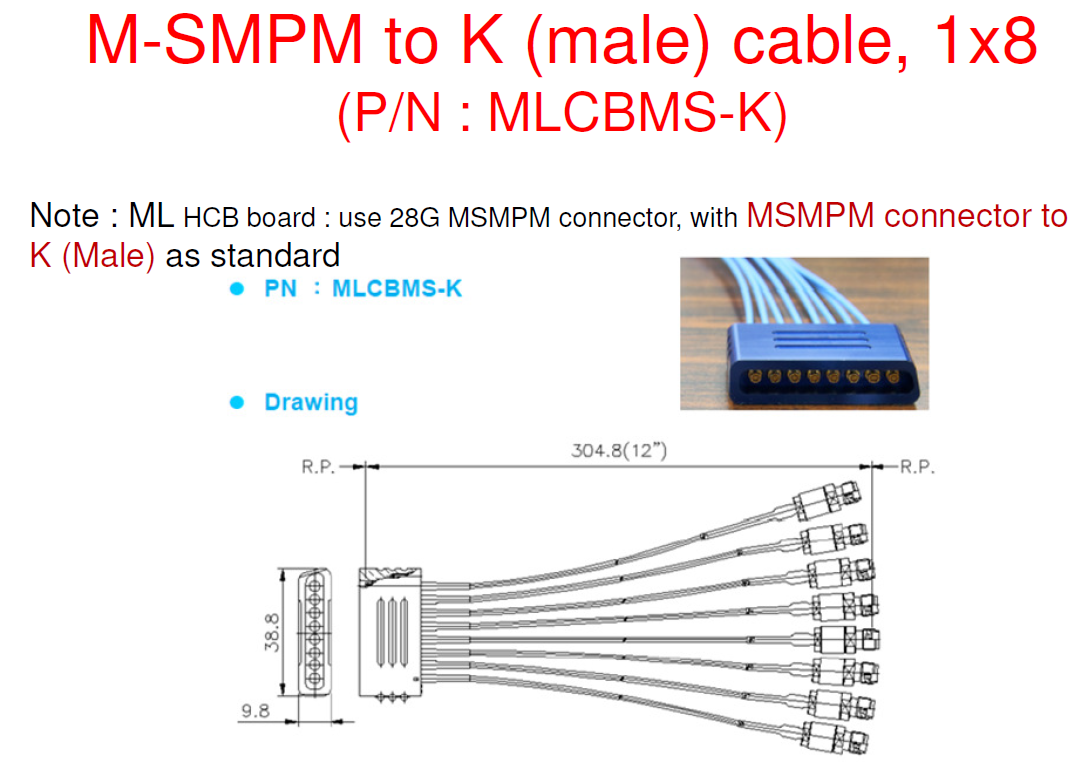 3. ML40x2-28 QSFP28 4x28G Passive Loopback Modules (ML4002/ML4012)

ML4002-28 is used for testing QSFP28 transceiver ports under board level tests. By substituting a full-featured QSFP28 transceiver with the ML4002-28, its electrical loopback provides a cost effective low loss method for QSFP28 port testing.

It provides QSFP28 power Class 1, 2, 3, or 4 loading using a customer supplied +3.3V voltage supply.
Support 4x28G
I2C slave interface compliant with SFF 8436 Programmable power dissipation up to 3.5W
High performance signal integrity traces
Temperature Monitoring
Hot pluggable module
Dual LED indicator
Custom Memory Maps
Supports 112Gb/s total data rate
Hot-pluggable MSA footprint
Fully SFF-8679 MSA Compliant
Temperature range from 0° to 80° C
4. ML4048 4x25/28G QSFP28 Retimed Loopback Modules
Support 4x25G/28G
MSA Compliant Functionality
I2C slave interface compliant with SFF8436
Custom Memory Maps
Temperature Monitoring
Retimed loopback at 25.78/27.95/28.05 Gbps Data Rates
PRBS generator and checker capabilities